Treasure Talk
Treasure Talk Team
Chris Ralph
RSS Feed
Treasure Talk Team
Treasure Talk
< Back
Chris Ralph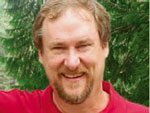 Chris hails from Nevada, a state with a rich history of gold mining in the western USA. He has more than 35 years of prospecting experience, panning his first little 3/16 inch flake from the historic mother lode country of California way back in 1975. He's been staking mining claims and digging for gold all over the western USA ever since. Chris followed his interests on a more formal level and obtained a degree in Mine Engineering from the Mackey School of Mines in Reno, Nevada and then worked in the gold mining industry.
Currently, Chris serves as the assistant editor of the ICMJ Prospecting and Mining Journal, an American magazine devoted to individual prospectors and small scale mining. He writes about various aspects of prospecting for gold, and his articles regularly address techniques and methods for detecting nuggets, especially the use of geologic knowledge to increase the quantity of gold prospectors can recover from their efforts.
In 2010, Chris released "Fists Full of Gold" an encyclopedic book about gold prospecting that covers the knowledge prospectors need to go beyond the beginner level and succeed at finding their own gold. The book focuses on the skills a prospector needs to be successful in detecting nuggets time and time again. He also has his own website – Chris Ralph's Prospecting Encyclopedia.
Found 20 Results, displaying 1 to 10