Treasure Talk
Treasure Talk Team
Trevor Ferraresso
RSS Feed
Treasure Talk Team
Treasure Talk
< Back
Trevor Ferraresso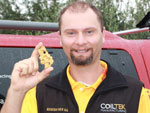 Trevor has been working in the prospecting industry since 1996 when he was first employed by Minelab in Adelaide. Working with the warehouse team he quickly became hooked on the hobby of metal detecting and was soon trying out the latest machine at the time, the SD2100. He developed a sound knowledge of how the detectors worked, however he was not able to find his first piece of gold until the year 2000 when he went on a trip to the Pilbara region of Western Australia.
He continued to work within the industry and learning more about coils, as he joined the Coiltek business in late 1999. He continued to invest more time into studying how the detectors worked and how they performed in the field, especially with different coils and accessories.
It wasn't long before he was fortunate enough to invest into the purchase of Coiltek (2007) and also Miners Den SA (2008) where he works closer than ever to customers and prospectors. Trevor says "I get great satisfaction in seeing people have fun in this hobby and enjoy promoting the lifestyle and rewards, which can be obtained when the work is put in".

Trevor has good knowledge of all the current Minelab metal detectors and many of the older units back to the XT17000 and early Sovereigns. Today his main detectors are the E-TRAC, X-TERRA 705 and the GPX 5000. All of which have brought him success out in the field.
Trevor says "I always make myself available to help people along the way and strongly believe that this hobby has a great future".
Found 5 Results, displaying 1 to 5