Treasure Talk
Treasure Talk Team
David Cuisinier
RSS Feed
Treasure Talk Team
Treasure Talk
< Back
David Cuisinier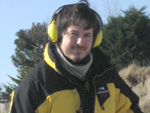 David has a great deal of experience with Minelab metal detectors, especially on the beach and underwater. He's an active metal detector user, and has travelled all over France to prospect as a hobby in various conditions: on the ground, in caves and tunnels, in rivers and at the beach.
In 2005, David created the French metal detecting magazines LE FOUILLEUR and L'OR DU FOUILLEUR. Over the last five years, David has tested dozens of machines in the field and published numerous articles about them. Each issue of the magazine includes reports on coils and detectors. In 2007, David and a friend founded LA BOUTIQUE DU FOUILLEUR (www.lefouilleur.fr), which has become a significant metal detector dealer within France.
There are also many field test videos available on David's LE FOUILLEUR TV. (http://www.laboutiquedufouilleur.com/medias/channel/32/minelab/)
David always uses Minelab's FBS and BBS detectors during treasure hunts when owners of castles or big mansions call him and his team in to find hoards (coins, weapons, ingots) buried by their ancestors.
Found 5 Results, displaying 1 to 5