Treasure Talk
Treasure Talk Team
Peter Cragg
RSS Feed
Treasure Talk Team
Treasure Talk
< Back
Peter Cragg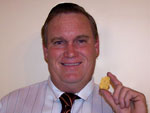 Peter or as he is known on detecting forums as 'Qld Sandy' was first introduced to gold prospecting by a new neighbour in 1983. In that year he purchased his first VLF metal detector. His first gold find was a 0.1 gram piece and the sizes grew as his experience did. In those early years he spent as much time as possible detecting for nuggets and sometimes coins for a different challenge. He has through the years graduated to nearly every new Minelab SD, GP and GPX metal detector.
Because of Peter's interest in detecting and his desires to assist others learn and become proficient in this hobby he recently opened 'Gold City Detecting' in April 2010.
He enjoys all aspects gold prospecting including all the phone calls and visits from customers and lookers. Peter says "One of the best calls I received was recently when a guy told me that I actually influenced him into the detecting fraternity with my stories".
His largest gold find was a 1.5kg specimen using a GP3000 from 22" deep that allowed him into the "Kilo Club". His best number of nuggets for a days outing so far has been 27 using a GPX-4000 and 'Smooth Timings' and he enjoys the challenges detecting offers as well as the peace and quiet of the Australian bush.
As a Minelab dealer he aims to help out anyone who asks for advice or assistance. You can read many forum topics posted by Peter on the 'Australian Gold & Coin Detecting Forum'
Found 4 Results, displaying 1 to 4