Treasure Talk
Treasure Talk Team
Chris Gholson
RSS Feed
Treasure Talk Team
Treasure Talk
< Back
Chris Gholson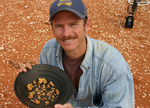 Chris Gholson's introduction to gold prospecting started as a young boy when his grandfather began taking him along on his many excursions into the Arizona desert to search for Indian artifacts, relics, and of course gold.
In 1998, Chris wrote his first book, Metal Detecting for Placer Gold. In 2002, he authored another book about gold mining with his colleagues from the University of Arizona and California State University. He is a columnist for Lost Treasure Magazine, and is contributing author for several other magazines including: The Gold Prospector, and the International California Mining Journal.
Chris has made numerous appearances on the Outdoor Channel and has his own series of instructional videos.

He holds a Bachelors degree in the Biological Sciences. He has prospected extensively throughout the Western United States, the Australian Outback, the goldfields of Alaska, and the rainforests of South America. He is currently the owner of Arizona Outback and the AZO Prospector's Forum.
Found 4 Results, displaying 1 to 4