Treasure Talk
Treasure Talk Team
Gordon Heritage
RSS Feed
Treasure Talk Team
Treasure Talk
< Back
Gordon Heritage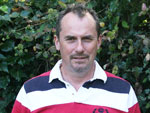 Gordon first started coin hunting on parks and commons in Buckinghamshire and soon amassed many thousands of coins dating back to the 17th century. Not content with this he started researching areas that had yielded older finds and in 1987 found his first hoard of 627 Roman silver denarii. This find transformed his hobby into a fulltime pursuit and it wasn't long before his exceptional discoveries were being featured in treasure hunting magazines.
In September 2000 Gordon and his detecting buddy made their best discovery to date, a pot containing two Bronze age neck Torcs and three heavy bracelets. The five gold items weighed in at over 2Kg, and were later valued at £290,000.
His last exceptional find was again down to researching an old hoard originally discovered in 1849. The Whaddon Chase hoard was a scattered hoard of Celtic gold staters and Gordon surmised that as the original hoard had been scattered by the plough, some must have been missed in the hunt to recover them. Sure enough, 75 coins were soon found using a Minelab Explorer and GPX-4000.
You may recognise Gordon from his film work for Minelab, MLOtv and for his involvement on the forum minelabowners.com. He first tried his hand at filming when he was invited to participate in the X-TERRA production. He then continued working with Gary Brun and Pat Watson (Mapletree Studios) on further work including the "Shallow water hunting" DVD. Gordon has brought his detecting experience to the production team, and they now produce many instructional films for MLOtv.com and MDUNI.com.

Gordon is an expert with the complete Minelab range, including the latest GPX 5000, however, the FBS detectors (E-TRAC, Explorer, Safari) are his favourite.
Found 28 Results, displaying 1 to 10