Treasure Talk
Treasure Talk Team
Angus James
RSS Feed
Treasure Talk Team
Treasure Talk
< Back
Angus James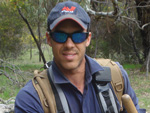 Growing up in country South Australia, Angus James was lucky enough to get into metal detecting from a young age. "It was my favourite pastimes with my old man, along next to fishing and camping". His first metal detector was the Minelab Sterling, and with it he made many memories, finding a good amount of pocket money while coin and relic hunting in his spare time.
Angus says "One of my most vivid moments I can recall as a 12-year-old was receiving my first gold detector, the XT 17000. The excitement of a gold detector couldn't have me any more determined. With its technology and enough luck, I was able to find my first nugget on the first outing, weighing at 1.2 grams. However, the moment that had truly struck me was only a week later, finding a 12.4 gram slug! From the time I had first uncovered it out of the ground, feeling the weight of the solid nugget in my hands, it was then I was struck by gold fever".
Since he was only young, many had said to him it was purely beginners luck, but over the years, experience and patience has reaped its rewards. Angus has upgraded with all the Minelab gold detectors from the SD 2000, SD 2100, GP Series and to now operating the GPX 5000.
Since that time, he has won the Ararat Gold Dig Token Hunt three years in a row and has found many beautiful gold nuggets over the years. His biggest nugget to date is a 4oz piece he found on a recent trip in the Golden Triangle. Angus says "prospecting is a great way to spend time in the outdoors'.
Angus is very passionate about this pastime and wants to continue to enjoy sharing his experiences with others.
Found 3 Results, displaying 1 to 3