Treasure Talk
Treasure Talk Team
RSS Feed
Treasure Talk Team
Treasure Talk
< Back
Adventures end
October 12, 2012 04:50pm
All good adventures have a beginning and an end, and 'The West Australian Adventure' was no exception. Personal reflections made when you've had time to sit down and go over your experiences all over again is what truly makes a great adventure and to that end they put this trip right up there with my all-time favourites. As I write this I've just received word from Chris Ralph who is waiting for an early flight at an Airport in the US, he's on his way back home from a whole new adventure with Steve Herschbach poles apart from our trip last year. I'm amazed to find it's been close on a year since we parted, so I suppose WA was truly a great adventure as it's taken nearly a year to tell the story!
Time had been gobbled up like so much sand tossed before a dry desert wind, all of us were itching to get back to loved ones and tell our story of 'The WA Adventure' with all the colourful accoutrements that only a good verbal story telling can provide. Chris was the true wonder boy as he'd come into his stride and was now king of the mountain in the numbers game, from a Zen point of view he was clearly 'At One' with his detector and it showed. What he lacked in weight he sure made up for in numbers of nuggets dug, it was a pleasure to catch some of it on camera.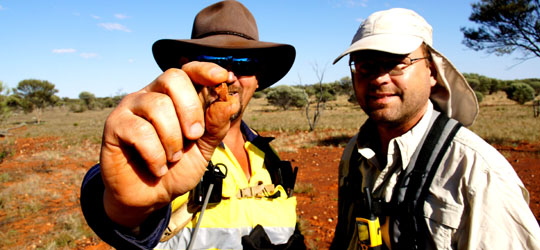 Both Chris and Steve agreed their Minelab GPX 5000s were the 'Go To' detectors of choice here in Australia with their ease of use and amazing performance, even on sub gram gold. We'd dabbled with VLF detectors and were all amazed with the ground noise and hot rocks that GPX users never have to worry about and probably now take for granted. What was interesting was our decision to revisit some of the areas we went to at the start, someone once said to me 'Don't leave gold to go and find gold', very true advice in this case. Would we have liked to have seen more gold? Of course we would, who wouldn't? That's the nature of the game and part and parcel to the adventure.
Crumbing was the order of the day at Adventures end so we put on elliptical coils cranked up the Timings and settings and went for broke covering as much ground as possible, or at least Chris and I did, Steve stubbornly stuck to his guns and used the 18" Mono (which explains why he had the bulk of the larger nuggets for the trip). On the last day of detecting we smashed three or four different areas and at each one Chris came up trumps. I'd barely get myself organised and he was on again digging away at another little nugget to add to his growing pile. On one spot we left them biting as the zone the nuggets were in was very tight and Steve and I were out on the edges giving Chris as much interference free air as possible. Eventually we ran out of daylight and it was time to follow the rough bush tracks back to camp. Our final take came to a respectable 8+ ounces between us, with Chris the clear winner on the amount of nuggets found, like he said "I just couldn't seem to luck onto anything large".
Goodbyes at the end were heart felt; the severing of our bonds of friendship came as a huge wrench as I watched them slowly drive off in a cloud of red tinged WA dust. That afternoon, using my GPX 5000, I found half an ounce of shiny WA nuggets which helped immensely in making up for the loss of their company. My personal thanks to all Treasure Talk readers who made it possible for us share "The West Australian Adventure"
Jonathan Porter
Comments
I really enjoyed the videos. Especially the gold related geology from Chris, and the explanations of why you were detecting in certain areas, and how you think the gold may have got there. Every little bit of info helps in finding the next run of nuggets......... Thanks JP
Posted By: nzgold on October 20, 2012 10:31am
Thanks for the kind words nzgold, it was a pleasure to spend time with both Chris and Steve and also a nice learning curve watching them go about their detecting the way they would do it at home. One of the things I absolutley love about metal detecting is your always learning something new, hanging out with Chris and Steve taught me a lot.

Regards
JP
Posted By: Jonathan Porter on October 24, 2012 05:34am
Comments are closed for this post