Success Stories 2012
Gold found in Burkina Faso
X-TERRA 705 Gold Pack
December 20, 2012 10:15am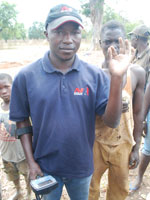 Minelab came to the area that we have many small miners looking for gold using panning with wind. Minelab wanted to show the miners how the metal detector works. After showing them how it works, I took the X-TERRA 705 Gold Pack to use in the area they have been working in now for over 3 weeks and have not found that much gold. We know that the gold is there as others have found gold nearby.
In 1 hour, with the Minelab X-TERRA 705 Gold Pack, I was able to find a nugget in the same area that they have been working in for the last 3 weeks. I was very surprised and very excited.
I am now telling everyone that they must buy this machine if they want to be rich in Burkina Faso.
Apanga Teme - AFR, Burkina Faso
Comments
To make comments you must be logged in, please note comments will not display immediately due to moderation
This is the find of the month??? One gold nugget???
Posted By: The Jersey Digger on January 10, 2013 06:18am
Thanks for the comment! Here at Minelab, we thought that this was a great story – the first of its kind from this Region – and felt that it satisfied the judging criteria. We love receiving Success Stories from around the world so keep posting and you never know, it could be yours that wins next month!
Posted By: MinelabMarketing on January 10, 2013 10:13am
This man may have found "one gold nugget", but with almost certainty the find changed not only his life but provided hope to many others that may have nothing. Now that he joined the ranks of Minelab Success Stories winners, he is also a hero for his people and a beacon of success. Demonstrating that if they are willing to put forth what diligence and determination they too can be recognized and acknowledged as was he. My find that placed me in the Success Stories back in Feb. 2012 could be questioned by many too. I see the story that is not written in Apanga's writing, and I am very happy that he won and I am proud of his success, he found a gold nugget which is something that I have yet to find.
Posted By: ScubaMark72 on January 13, 2013 09:12am
Never used a detector before and to find gold in an hour is fantastic and using an X-TERRA 705 very well deserved just think what he could do with a GPX 5000 feed more than his family.

Congratulations
Posted By: aubs on January 21, 2013 07:04am
Bravo,orpaillage traditionnel est pénible et dangereux au Burkina Faso....
Avec les détecteurs tu as juste qu'a t'abaisser pour ramasser écolo pas de puits pas de galeries et pas de morts............
Orpailleurs africains soyons responsable et respectueux de notre globe.
Posted By: ladora on April 11, 2013 02:31am
Good Job Apanga,Keep Looking Im sure there is more there..
Posted By: hardground on September 06, 2013 12:04pm
Congrats Apanga! More to you :)
Posted By: steelheadwill1 on January 29, 2014 12:07am
< Back to List