Find of the Month
US$250 Reward!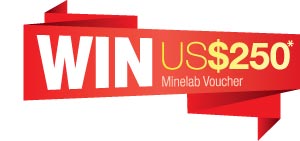 The Minelab Find of the Month competition just got a whole lot better. As of February 2011 the winner of the monthly competition will not only receive a Minelab backpack stuffed full of accessories but also a US$250 voucher* towards their next Minelab purchase. This voucher is redeemable against the purchase of any Minelab products from your local authorised Minelab dealer.

Entries will be judged on three main criteria:
The find must be made with a Minelab metal detector.
A combination of an entertaining story (set the scene and capture the excitement of making your find) and an interesting, rare or valuable find.
Images of the finds to accompany the story.

If you are not sure whether your story meets this criteria please send it in to us anyway. We always love to hear about the finds that are being made out in the field with Minelab detectors. The above criteria is only a guideline for those that would like to maximise their chances of winning the Find of the Month competition. So what are you waiting for? Submit your story now!

*This value will be converted to local currency by Minelab where applicable. Terms and conditions apply.