RSS Feed
News for 2016
08 Sep 2016
Minelab awarded contract to develop new handheld device detector for the Australian Defence Force
Minelab Electronics has been awarded a $6.7m contract by the Department of Defence to develop a new Handheld Device Detector (HDD). The funding received under this contract is to further develop a dual sensor metal detector which incorporates ground penetrating radar. It will partially offset the development costs of the product, and the project is expected to be completed by 2018.
25 Aug 2016
Massive 145-Ounce (132-troy ounce) Gold Nugget found with GPZ 7000
Victoria, Australia
The 'Friday's Joy' gold nugget is expected to bring more than $250,000 AUD. It was discovered in a worked-over area at the far southern edge of Central Victoria's Golden Triangle on a recent Friday morning by a seasoned prospector wishing to remain anonymous. After discovering a 9-ounce tennis ball-shaped gold nugget more than two feet deep with his Minelab GPZ 7000 the previous day, he went back for more.
27 Jul 2016
Finding Gold in the Adelaide Hills
Adelaide, South Australia
We are pleased to notify you of a 4 minute segment on the Adelaide Hills Gold Rush that was broadcasted on Tuesday, 26 July 2016 on Today Tonight Adelaide.
Filmed in the Adelaide Hills, the segment features Peter Charlesworth, General Manager of Minelab, talking about Minelab's technology and superior performance: "Our patented technology, [and we are the only ones in the world with this], enables the machines to punch through that mineralisation to be able to find the metal. It turns out that, in particular, gold nuggets are often located where there is mineralised soil."
15 Jul 2016
Hoard of 8,000 Roman coins unveiled with CTX 3030
Altrincham, UK
Ronald Lees and Rick Parker discovered a hoard of almost 8,000 Roman bronze coins from the third century using their CTX 3030 metal detectors. (Image Credit: http://www.messengernewspapers.co.uk/)
The duo found the coins in a Cheshire field in January 2015. But it wasn't until last week, that the coin hoard was declared to be treasure by the Deputy Coroner for Cheshire.
16 Jun 2016
2000 Year Old Roman Ingot Found With CTX 3030
Wells, Somerset, England
In May 2016, Jason Baker discovered an extremely rare "Roman lead pig" with his CTX 3030 on a rally organised by the Southern Detectorists Club in Wellls, Somerset.
This piece dated between 164 AD -169 AD, is a Roman mining ingot with the inscriptions of the ruling emperors - "IMP(ERATOR) DVOR (UM) AVG (VSTI) ANTONINI ET VERI ARMENIACORVM", which translates - "The property of the emperors Marcus Aurelius Armeniacus and Lucius Verus Armeniacus". This is a very interesting and unique find as only a few exist that are complete
03 Jun 2016
GO-FIND Series Wins Good Design Australia Award
Sydney, Australia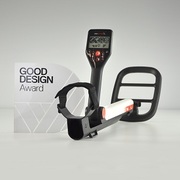 Minelab is pleased to announce that our GO-FIND Series of treasure detectors has won a Good Design Award® for 2016. There were 34 entrants in the "Sport and Lifestyle" category and GO-FIND impressed the judges with its innovation and aesthetics. The winner was announced on Friday 27th May at the Good Design Awards ceremony in Sydney.
27 May 2016
Go Minelabbing Day 2016
Worldwide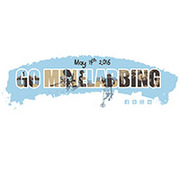 Minelab and various metal detector community groups sponsored "Go Minelabbing" events on May 14th, 2016 to celebrate the International Metal Detecting Day. It was a very successful day with thousands of attendees around the world, fantastic finds and Minelab prizes.
Thanks to those who participated in the different events and shared their photos and stories with us. Minelabbing is all about embracing the principles of what makes our hobby great, coupled with the ethics for doing it responsibly!
11 Apr 2016
New Product – GPZ 19 Accessory Coil – Coming Soon!
Minelab is pleased to announce that our new GPZ 19 accessory coil will soon be available.
The GPZ 19 Super-D coil has been designed to maximise the performance of your GPZ 7000 and give a significant depth increase over the standard GPZ 14 coil. Uncover more gold - and faster!
18 Mar 2016
Minelab Continues Active Presence In European Market
New Sales Office In Cork, Ireland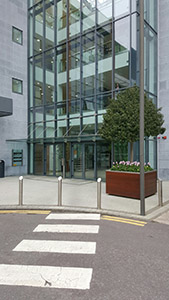 CORK, Ireland (March 18, 2016) - Minelab, the world leader in providing metal detecting technologies for consumer, humanitarian demining and military needs, today announced the opening of its new sales office in Cork, Ireland. In celebration, the company will host a public ribbon-cutting ceremony on Tuesday, March 22, 2016, at 9:30 a.m.
26 Feb 2016
New Product - PRO-GOLD Premium Panning Kit
Everything you need to get started gold panning!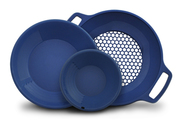 Minelab is pleased to announce the introduction of our PRO-GOLD Premium Panning Kit. This kit has everything a beginner needs to get started and the individual pans provide the experienced user with several gold panning advantages. The PRO-GOLD pans have multiple panning zones for maximum gold recovery and come in high contrast blue for optimum gold visibility!