RSS Feed
Events for 2016
If you are hosting a detecting event of your own, promote it here by submitting it via our Submit an Event page.
---
19 Jan 2016 - 22 Jan 2016
GOLD RUSH 2016 Come Visit Minelab Suite at
Treasure Island - Las Vegas
RSVP by calling or texting this mobile number: 630-392-4849
Its too Good to Miss!
23 Jan 2016 - 31 Jan 2016
Come Visit Minelab At The 2016 Boot Trade Show
Dusseldorf Exhibition Centre, Dusseldorf, Germany
Come and visit Minelab at the 2016 Boot Trade Show at Hall 3, Stand No. 3G60
Vincent O' Brien (Minelab Regional Sales Manager EMEA) and Malissa Salzinger (Business Development Director – EMEA) will be delighted to welcome you to the Minelab Stand.
For details and other information, please go to www.boot.de or www.boat-duesseldorf.com
---
Besuchen Sie Minelab Am 2016 Das Boot Messe
Messegelände Düsseldorf, Düsseldorf, Deutschland
13 Feb 2016 - 21 Feb 2016
Belgian Boat Show
Flanders Expo Centre, Gent
Come visit West Coast Detecting at Stand 7430A, in Hall 7.
For more information click here.
21 Feb 2016 - 10 Jul 2016
The Minelab FBS Bootcamp
Hosted by Andy Sabisch
General Bootcamp Information:

Bootcamps are held on a weekend with the classroom portion kicking off bright and early but don't worry, there will be plenty of coffee and the content is sure to keep you energized until we hit the field after lunch. Lunch is provided so we can cover as much material as possible in the time we have available. The in-field session will let you put what you learned into practice and with the instructors handy, you can have any questions answered on the spot. There will be test areas setup where you can see how slight changes in settings can and will make a big difference in performance. Once you've spent some time in the test area, see how you do on natural targets . . . . there will be real targets to seek out as well as prize tokens, old coins, Civil War relics and more to test your skill before you call it a day.
07 Apr 2016 - 08 Apr 2016
Minelab CTX-3030 / E-TRAC Training Workshops
Orlando, Florida
For more information and to Register for this event click here.
08 Apr 2016 - 10 Apr 2016
TAMDC Convention
Longview Texas USA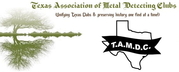 09 Apr 2016 - 09 Apr 2016
Central Florida Sunshine Shoot Out
Orlando, Florida
For more information and to Register for this event, click here.
15 Apr 2016 - 17 Apr 2016
Dedutsche Schatzsucher Meisterschaft
Farschwediler - Osburg Germany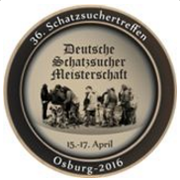 Seit 36 Jahren ist das Schatzsuchertreffen-Osburg mit der 16. Deutschen Schatzsucher Meisterschaft
verbunden und das größte und jährliche Highlight der Sondengänger und Schatzsucherszene in Deutschland.
https://www.facebook.com/profile.php?id=100011158630837
EN:
Since 36 years, the Treasure Hunter Rally - Osburg Germany is the 16th German Treasure Hunters Championship closely linked and the annual highlight and latgest in Germany of Detectorists and treasure hunters scene in Germany.
12 May 2016 - 15 May 2016
Sveriges Metallsökarförening (SMF)
Östergötland County, Sweden
Sveriges metallsökarförening har haft fem stycken träffar där man stått som arrangör för medlemmarna, den 12-15 maj kommer man åter hålla träff men man tar ny inriktning på utbildningar då medlemsantalet ökat markant för hobbyn och intresset är långt ifrån att avta. Vill SMF tillgodose att kvalitén behålls högt inom hobbyn vad det gäller inmätning, fyndhantering, identifiering och rutiner på föremål som man kan tro är från 1850 eller äldre.
14 May 2016
International Metal Detecting Day - Go Minelabbing!
Worldwide
Found 30 Results, displaying 1 to 10