RSS Feed
Events
10 Nov 2013 - 10 Nov 2013
XXII National Rally AED–A · II International Rally
Spain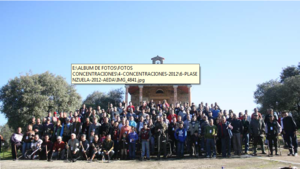 XXII National Rally AED–A · II International Rally Spain
(ASOCIACION EXTREMEÑA DE DETECTO AFICIONADOS) Meeting location "LA ALDEA DEL OBISPO" (CÁCERES)
From the Association we are pleased to announce that we are preparing the XXII National Meeting to be held on Sunday November 10 in the town of La Aldea del Obispo, Caceres.
The meeting point will be, at the Restaurant El Cruce, located on Highway A- 5, Km 240 (Madrid -Lisbon), exit 240. (Torrecillas de la tiesa / La Aldea del Obispo ) , next to the highway and Repsol Service Station . The activity for register will start at 9am.
PROGRAM
At 9:00am. Reception at the Restaurant, registration, delivery of ridges and menu choice.
By registering, participants will receive:
BACK + BAG RECYCLING.
TICKET SNACK: For snack 11:30 h in the field.
TICKET MEAL: For meal at Restaurant El Cruce .
FORM COMPETITION: To participate in the final round of the Third Circuit Competition D&M- 2013, which will consist of the IDENTIFICATION OF METALS.
10:00am. We will move to the field where the competition will take place, located about 6 km in the town of La Aldea del Obispo.
10:15 To 11:30 - Competition.
11:30 to 12:00 - Refreshments in the field (sandwich plus a drink, giving the ticket).
13:00 - End of Competition.
14:00 - We will go to Restaurant El Cruce.
15:30 - Meal. At the end shall be THE AWARDS.
To make the registration, reservation of cutlery and hotel accommodations must call phones Association: +34 927 313 679 / +34 665 721 212. You can also make reservations via e info@aed-a.org Association. Only reserve the silverware made in advance.