Gold Stories
Gold Stories
See fantastic Minelab finds from our users or share your very own Minelab Success Story. We'd love to hear what people are discovering with their Minelab Detectors.
By submitting your story, you enter the Find of the Month competition where we give away a USD 250 voucher in Minelab products and assorted Minelab branded accessories to the winner.
Submit your story here.
GPZ 7000
September 15, 2016 02:14am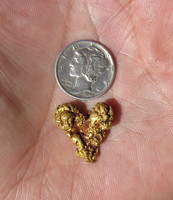 While recently out detecting for gold on a very warm day in Northern California, I was in an area that had given up several nuggets in the last few years with my GPX-4000 and even more withe my GPZ 7000. I felt pretty confident there were none left, as there were several other 5000s and 7000s behind me after I told others of my patch. The patch was in and adjacent to a heavily timbered area that had several inches of organic material above the soil. There are a lot of volcanic hot rocks there and usually have to run the 7000 in difficult. That particular day, I made other adjustments to my preferred settings and was able to stay in normal. The ground was uneven and hard to get a decent swing, but did manage to get a repeatable signal. After a couple of boot scrapes and a pick scrape, I had a very good signal. I had a friend close by; who is a very competent detectorist.
SD 2200d
August 15, 2016 05:29am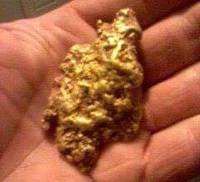 I bought a SD 2200d metal detector and didn't know much about searching for gold. I know they have found a few big nuggets out Wedderburn so I went out there for a look. After about 3 hours, I was ...
GPX 5000
June 02, 2016 10:17am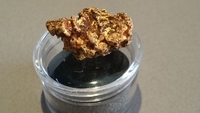 I will never forget my first GPX experience. A friend and I had purchased an SDC together and soon after, he wanted to go halves in a GPX 5000 but I couldn't afford it at the time. He got tired ...
SDC 2300
May 25, 2016 06:55am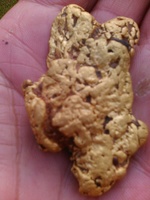 GPZ 7000
February 25, 2016 10:21am

A month before, I made some programming adjustments on a GPZ 7000 for high performance and depth. My friend called me and told me that he found deep stones containing gold with the GPZ 7000 detector, after assembling the stones got 500 grams ...
GPZ 7000
October 05, 2015 08:00am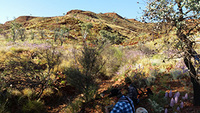 I found the GPZ to be extremely easy to use and as you can see by the photo very good on small nuggets, some less than 0.1 of a gram. We also had 2 of the 5000 detectors which were also picking up a lot of the same size but I found that even after my mates had finnished a spot I could still go in with the GPZ and find a couple that were missed by the 5000. I ended up with 136 nuggets weighing in at 32 grams and a few small speci's. All in all it was another awesome trip in very ruggered terrain with some good company and a lot of beer.
GPZ 7000
September 15, 2015 08:00am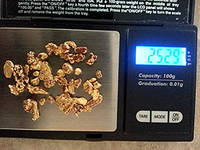 first day out using my newly purchased GPZ 7000 couldn't believe how sensitive this machine was picked up 25 grams of the best nuggets in no time at all luv the new machine hopefully can enter many more in the future!!
Clint – WA, Australia
GPX-4500
September 09, 2015 09:00am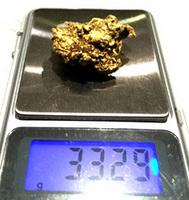 At around 16 inches another tree root things were now getting difficult, I continued using a plastic scoop scraping as I couldn't get the pick in. I then hit what looked like compacted river gravels, my heart started pounding, I thought surely can't be trash. Scraping the gravel with my scoop what appeared to be a familiar gold speck. Ran and grabbed my bottle of water and proceeded to splash and clean yes there appeared a nugget sitting vertical in the gravel. I scraped around with my pocket knife ever so gently and managed to gently pry the nugget loose. In my hand was a little beauty my first major find with the 4500 after having it for 2 weeks. My first thought was I have paid for the detector, great investment. After giving the nugget a quick clean and weighing it came in @ 36grams, I thought to myself I have finally joined the ounce club. Below is the shot of the nugget in its natural state, and after it has been cleaned. I hope my luck continues and more stories like this come out of the GT.
Tryhard1968 – Vic, Australia
Posted on September 09, 2015 09:00am |
1 Comment
GPZ 7000
August 27, 2015 08:00am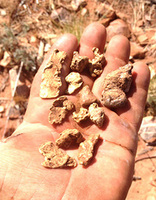 Day one unpack it,
Day two found about 4g,
Day three found about 6g on ground that I flogged to death
Day four paid for it
by Day eight I got just under 20 ounces
I love the new GPZ 7000 thank minelab.
Regards,
Dave – QLD, Australia
GPX 5000
August 19, 2015 08:00am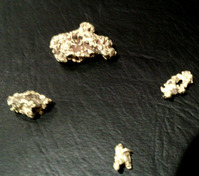 Have just found my first gold nuggets, on my second trip away with my Club, we set off for a 15 day detecting trip, to Wedderburn, Inglewood and the last 7 days at Kingower. Wasn't too happy after 13 days of digging every target, with plenty of the usual, and even an old rusty rabbit trap, however had to get the positive cap back on and headed out again. The last hour of a long day up came a little 0.2 g nugget, then i stepped onto an old digging heaps and a signal, 6/8" and then 10" and realised then it was back into the wall futher, Out came a 1.6 G. Out to the same spot next moning and first 2 signals up came another 2 and totalled 2.5 g for my first finds. Would like to thank Bernie Cooper and Greame Fuge for their assistance and advice for my second trip with the club, and the opportunity to travel with these people, Thhanks also to Minelab for this opportunity and my new found hobby at 67, recommend it!
Childsy – NSW, Australia
Found 222 Results, displaying 1 to 10