F1A4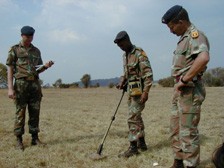 The F1A4 was first evaluated against six other detectors by the Cambodian Mine Action Centre (CMAC) in Cambodia in 1996-1997. As a consequence of this evaluation, the F1A4 was clearly identified as the best detector available. To date there are in excess of 2,400 F1A4 detectors being operated by CMAC.

Despite the first trial of the F1A4 occurring in 1996, the superiority of the F1A4 detector has been proven in a succession of comprehensive evaluations conducted in the intervening period. The latest evaluation (results published in November, 2005) was the Systematic Test and Evaluation of Metal Detectors (STEMD) endorsed by the Joint Research Centre.

Details regarding evaluations are available on request.
For further information please click here, or review extracts from selected evaluations below.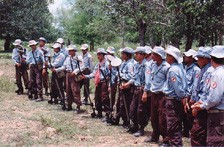 EVALUATIONS LIST:
STEMD report (published November, 2005)
International Pilot Project for Technology Co-operation (IPPTC) (published July, 2001)
UN Accelerated Demining Program (UNADP) - Mozambique (December, 2000)
UN Mine Action Program for Afghanistan (March, 2000)
Cambodian Mine Action Centre (CMAC) (March, 1998)
US Department of Army - 7th Army Training Command (September, 1997)
US Mine Action Centre - Bosnia & Herzegovina (March, 1997)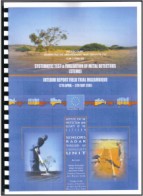 Systematic Test & Evaluation of Metal Detectors (STEMD) report (Published November, 2005)

The STEMD evaluation updates the data provided in the IPPTC evaluation that was conducted in 2001. In particular, the evaluation seeks to determine to what extent a detector's sensitivity is detrimentally affected due to the type of soil it encounters. The latest detectors from all major manufacturers were evaluated. Whereas the report shows that some detectors exhibit a substantial loss of sensitivity (increasing
the risk of missing minimum metal mines) in mineralised soils, the following quote illustrates the advantage of Minelab technology:

"The exceptional behaviour of the Minelab detectors is due to their good soil compensation and also because of the design philosophy adopted, which is to optimise for equal performance in all conditions....."

For more information click here.
International Pilot Project for Technology Co-operation (IPPTC) (published July, 2001)

This extremely comprehensive evaluation of 29 mine detectors involved four nations together with the European Commission. The all important Field Tests phase of the evaluation was conducted in Croatia and Cambodia in varying soil conditions. As shown in the report, in both countries, the Minelab F1A4 achieved results closest to the perfect score in comparison to all other mine detectors.