Download Now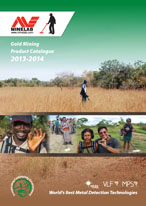 Can't wait to read the Minelab Gold Mining catalogue? Get your copy now by clicking on the Download Catalogue button below! Prefer a printed copy? If you would like a FREE copy of the high quality printed catalogue simply complete and submit the enquiry form to the left and we will mail one out to you.
The Minelab catalogue download is in Adobe Portable Document Format. If you don't already have the Adobe Reader software you can download and install it for free here.
Gold Mining Enquiry & Catalogue Request
Complete the form BELOW if you have a question for Minelab or would like to be mailed a printed product catalogue. Fill out the information on the right-hand side to download the online version.