Success Stories for 2016
See fantastic Minelab finds from our users or share your very own Minelab Success Story. We'd love to hear what people are discovering with their Minelab Detectors.
By submitting your story, you enter the Find of the Month competition where we give away a USD 250 voucher in Minelab products and assorted Minelab branded accessories to the winner.
Submit your story here.
Excalibur 1000
November 30, 2016 11:55am
My hunt started as a normal metal detecting trip to Claytor Lake public swimming beach in Virginia about 2 hours from my house in North Carolina. It was the summer of 2005. My dad was with me as he was the one ...
E-TRAC
November 30, 2016 03:00am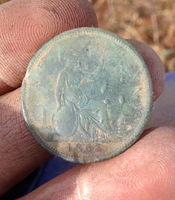 Borrowed my mate's E-TRAC and decided to hit an old miners camp in the Golden triangle, Victoria Australia. This is one of those areas you lift the coil and avoid due to all the iron rubbish left from ...
Musketeer Advantage
November 29, 2016 02:31am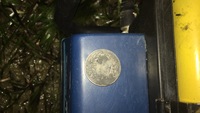 Just recently, I took my trusted Musketeer out for a hunt in salt marshes infested with iron sand (1-2" deep in some places). This location has produced a few silvers and tokens from the 1800s. In NZ it's ...
GPZ 7000
November 29, 2016 12:00am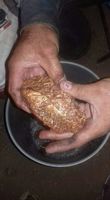 English I'm from Mexico and found this massive 1.2 kgs gold nugget with my GPZ 7000. The gold nugget was 1.5 mts deep! Thanks Minelab for changing my life! Espanol Soy de Mexico y encontre esta enorme nugget de oro que ...
GPZ 7000
November 24, 2016 12:00am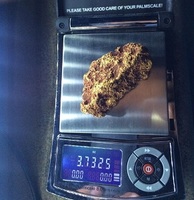 Thought I would share one of the finds with the new coil. Spot had a minimum of 4 different GPZ 7000's over it with 14 inch coil. The GPZ 19 picked up this 3.7ounce at 2 foot deep in any setting. Very quiet at first but was screaming after a few scrapes with the pick.
X-TERRA 705
November 23, 2016 03:53am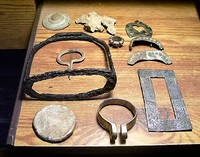 Since I have started relic hunting with my X-TERRA 705 I have found many relic dating from the 1860's to present day. All in the same hay pasture. My first good find was a T. Miller C button. That was 7 years ...
E-TRAC
November 21, 2016 03:35am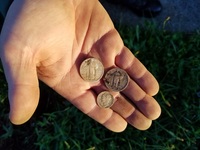 Recently after work, my wife, father and I stopped to do a quick metal detecting hunt in a small historical timber town in the Pacific Northwest. We were working a small permission along a public sidewalk when my E-TRAC gave ...
X-TERRA 305
November 20, 2016 05:21am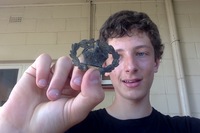 I'm 14, and I loooove metal detecting! I've been at it for over 2 years and have amazing finds to show for it! One that really caught my amazement was a war badge I found in an old house ...
X-TERRA 705
November 19, 2016 02:22am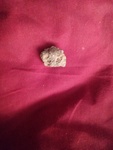 I've hunted with Whites, Garret and now my first Minelab, the X-TERRA 705. I love it. It seems to be a better for the soil type in my area. I've hunted places with it that I've previously hunted ...
X-TERRA 705
November 13, 2016 02:41am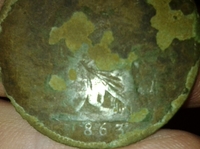 I was living in Tasmania at the time on a good size property, while there I bought an X-TERRA 705. To get the feel of the X-TERRA I decided to try it in the paddocks which were an old orchard. Finally ...
Found 193 Results, displaying 1 to 10