Success Stories for 2015
Safari
November 13, 2015 12:00am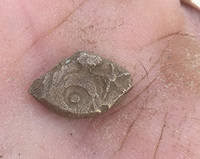 This is my first gold Celitc coin found it using my minelab Safari my best find so far I am one happy man a find of a life time.
Wayne – Ipswich, UK
More...
CTX 3030
November 13, 2015 12:00am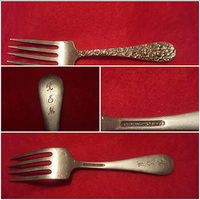 On October the 13th 2015 I was on a trip to Perrysburg Ohio and wanted a place to hunt. I could not decide on where to go so I decided to pick the biggest house on the street I ended up on. The lady was happy for me to hunt it and was excited about what I might find. I ended up hunting 2 days there and found a ton of great stuff. The house was built in 1873. On the end of the first day I got my most exiting find right at the time I was ready to call it a day. Behind the old carriage house I was getting a bunch of old trash and got a booming signal that I figured was going to be a can. Well only about 3 inches deep I saw the end of a fork. This fork is no regular fork it is in fact a Stieff Silver baby fork. It is the 1895 The Rose pattern and has a monogram on it that is from the 2nd owners of the house. The original owners died in 1893 and the house was sold. The second owners where not documented well so I have yet to track down their lineage. This is my first complete silver utensil and is heavy for its size. The history of the house is amazing and the fork adds a piece that was not well known. Last pic is the total of my finds including 20 silver coins 2 Indian Head cents 6 Buffalo nickels and more relics.
Matt – Georgia, USA
More...
CTX 3030
November 10, 2015 12:00am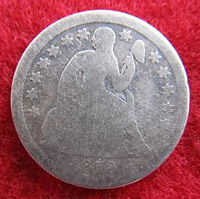 A wonderful thing about our hobby is the relationships you make with other detectorists, we share a common interest and when you detect together it just increases the pleasures of making a great find. Our friend Bill invited us to a field site where he had made some great finds the previous couple of days. His generosity to us led to one of my all-time best finds. The day was cool and windy but the cornfield looked so inviting we started out and I soon found an Indian Head and a flat button, shortly after I found another Indian Head and then it seemed to slow down. I heard my wife Diane callout to me and she gave me our signal for a Seated Dime. Over the years we have developed hand signals so we can relay information over long distances. Bill and I went over to see her find of an 1859-O Seated Liberty Dime a low mintage coin of 480,000! A bit later she found an 1882 Indian Head while at the same time Bill found two Indians in a row. I moved to another area and was rewarded with a couple of Indians including a nice 1868. Working in the corn stubble I got a sweet tone on my CTX but the numbers were jumpy, ranging from 12-32 to 12-42 mixed with iron signals.
More...
E-TRAC
November 10, 2015 12:00am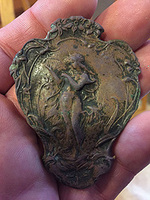 Ok I was taking a drive threw a area that has had some construction and noticed a small 20 foot section of sidewalk taken out right in front of a restaurant that was just built 5 years before. I didn't think I would find anything so I just drive by heading to the store. After my stop at the store I couldn't stop thinking about what may be laying under them sidewalks. I decided to drive back through the area and detect it the small patch of sidewalk. Only about 20 of area about halfway through I get a big hit it rang up like a large cent but I could tell it was bigger by pinpointing it low and behold it was a mid 1800's lady's hat pin. At first I wasn't sure what it was but after spending some time with her I knew I found something special. I have a short video of it hope you enjoy one of my best relic finds of my life. Thank you minelab for making such an awesome machine!!!
Hoosierdigginsome - USA
CTX 3030
November 10, 2015 12:00am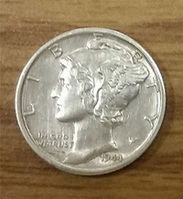 I forgot to post these, I have found them in multiple areas. I had a 5th one but I gave it to one of the landowners of the ghost town I am allowed to dig. I found in the order of the photo, #1 in a park where I have found multiple wheaties but no more old silver. #2 is one of the two I found in the ghost town along with some wheaties and old relics. #3 was given to the landowner, #4 was in the same ghost town and #5 is the newest addition from a park I recently visited and will return to this weekend. What I don't understand is why can't I find the quarters to go with them? I figure because of the years stamped on them, there wasn't much of a need for anything larger in your pocket? If anyone has any pointers I'm open for suggestions. I'm still learning the CTX but what a hell of an instrument to have in your hands.
David – Texas USA
More...
CTX 3030
November 09, 2015 12:00am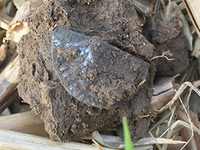 Being a long-time detectorist it has always been my dream to travel to England to search for a hammered coin. This year I finally decided to head over to the UK taking my CTX 3030 with me .. After attending my first rally I was over the moon with the finds I had made but still was chasing that dream .. Hunting in the afternoon on the last day of my first rally I came across a low tone that was quite jumpy being amongst cut stubble from the farm crops.. Digging down and having trouble to pinpoint I finally came across the target .. A Henry 111 half cut voided long cross hammered coin!!! What a trip, to make finds I always had dreamed , and the CTX 3030 helped me get there :)
John – Queensland, Australia
Safari
November 06, 2015 12:00am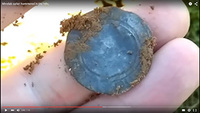 Basically I'm quite new to using a Minelab, I am so happy to have chosen the safari, I've struggled to adapt to changing from one company's product to another, I had a struggle of a day, nothing much happening, until bang- find of the day, my oldest coin to date Elizabeth the 1st sixpence 1569. Bingo, I am so so happy, thank you Minelab for such a great machine.
Martin – Wales, UK
X-TERRA 705
November 05, 2015 12:00am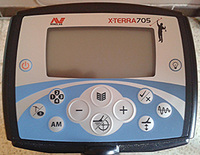 discovery of a gold coins while detecting in ploughed field with my X-TERRA 705.
Passion détection - Languedoc-Roussillon, France
CTX 3030
November 05, 2015 12:00am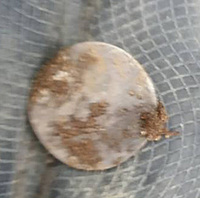 7 years on my favorite little Colonial field has produced some great finds. And since I introduced the CTX 3030 to the field the finds have become amazing. But today's find topped them all. While walking the perimeter of this freshly plowed field I spotted a few interesting stones. Definitely Foundation Rocks. I ventured a few feet into the woods and pulled a 1787 NJ copper and I was stoked. A few feet later a colonial Tomback button. As I ventured into the center of this clearing,The CTX3030 gave me that familiar high pitched sound and a nice tight Target signature. 9 inches deep, I pulled one of my oldest coins ever. a 349 year Old, 1666 Carolus II silver crown. My hands are still shaking. Once again this machine amazes me.
DA Frank L – New Jersey, USA
More...
CTX 3030
November 04, 2015 04:00pm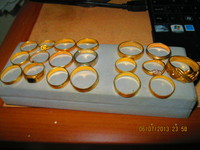 I have bought a CTX 3030 at the beginning of July. It's perfect balance, stable operation and providing the correct target ID make me admire it. I have found great things in a short time. I am used to it easily because I have used Explorer before. I can dive enough to take a breathe because of it's waterproof feature. It provides great advantage on me because the gold objects are generally in the water when there are no strong waves and are not thrown out. At this point CTX 3030 provides advantage with it's depth and being waterproof in the shallow waters.
I could not have taken the photos of all the things I have found and nothing could be further from my mind to write my story but you can be sure that I will take a photo of all the gold objects that I have found from now on. The things that I have found:
Anonymous – Middle East
More...
Found 256 Results, displaying 1 to 10