RSS Feed
News
22 Sep 2011
Updates From Minelab Canada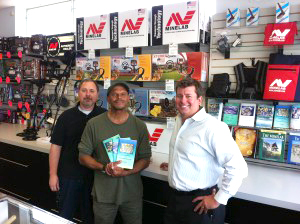 News from the Minelab Canada blog:
This past Friday (September 16, 2011) I was pleased to meet with Clive Clynick (Canada's famed detectorist and author) and Rob Freeman of Minelab Americas and Tim Pacan, Sales Manager at Radioworld in Toronto, ON. We met for several hours talking about Minelab Detectors, future plans for Minelab in Canada and story upon story about Clive's detecting accomplishments and his publications.

I was glad to see Clive again! He is a great fellow and always has an interesting story or two. Clive is the author of several metal detecting books which are considered "must haves" in the metal detecting community. They are chock full of techniques, tips and tricks to operating your metal detector and finding more treasure! Clive's most recent finds are a sight to behold and listening to the story behind them never gets old. You can find out more information on Clive's finds by visiting his website.

Minelab Americas and Minelab Canada have been working hard on some very exciting changes that have already started. ...
To read the full story visit the Minelab Canada blog.