RSS Feed
News
15 Aug 2011
Video Success Stories Now Accepted!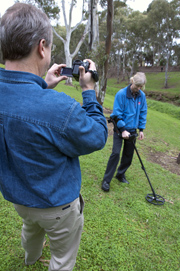 Great news for all Minelab users!

Throughout the years we have heard lots of amazing stories about all kinds of exciting discoveries made by Minelab users around the world. Many of them are available for you to read on our Success Stories page.

Earlier this year we introduced great new prizes for our Find of the Month competition in which we award the winner with a US$250* Minelab voucher! We are now very pleased to announce that, in addition to this ongoing competition, Minelab will be accepting short videos as part of Success Story submissions.

If you have a video from your latest and greatest detecting adventure and would like to submit your video as a Success Story simply fill out the Submit a Story form and attach your video. Any video presenting an entertaining story of a find made with a Minelab metal detector will be in the running to win Find of the Month. The video can be up to 5 minutes long and up to 500MB in size, in any of the following formats avi, wmv, mov, mp4, mpg.

If you don't have a video to submit but still have a great story to tell and photos you would like to send in don't worry! Chances for winning the Find of The Month prize are equal whether you send a video or write a story illustrated by your pictures.

So, if you have made a great find and would like to tell the world about it, why not send in your story and go in the running to win a US$250* Minelab voucher and more!

In the meantime, our first video Success Story, submitted by Gerry's Metal detectors, is now available to watch here.