RSS Feed
News
29 Apr 2011
Diggin' In Virginia Makes History Come Alive with the GPX 5000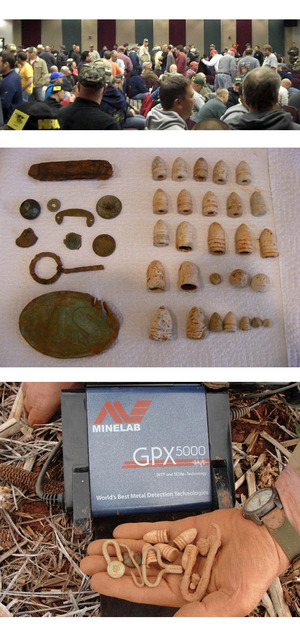 The Diggin' in Virginia XVII Hunt was held on March 31 to April 2 this year and was attended by hundreds of relic hunting enthusiasts. Here are a few highlights of the event from Minelab's Rob Freeman and fellow attendees:

Thank you to everyone who participated at DIV's (Diggin' In Virginia) 3000+ acre hunt this Spring and for stopping by the Minelab booth to say hello at the dinner that Wednesday evening. The caliber of people I had a chance to meet there was impressive. I met expert detectorists and Civil War historians alike. These guys meant serious business. I was personally intrigued with this event especially since April 12th marked the 150th anniversary of the Civil War.

For those not familiar with this area of the country the soil is a red clay base that consists of iron. This "mineralised clay" is found sporadically throughout parts of Virginia and a few areas in surrounding states, but the most extreme condition is found where DIV hold their events. This means that trying to use detectors with discrimination technology against junk or trash doesn't work well in mineralised clay soil. You need to treat this type of soil like you would hunting for gold in the eastern part of the country. You need pulse induction with iron rejection technology.

This was the first year that Minelab has ever participated at this event. And to help generate a little extra for DIV's charities, Minelab donated a new GPX 5000 for their raffle. "When Rose told me that you folks (Minelab) were donating a GPX 5000 for the raffle I about fell off my chair. The various raffles we had collected a little over $11,000 for various charities." said John Kendrick, Diggin' In Virginia co-founder. He estimated that the GPX 5000 raffle generated about $5,000 out of the $11,000 total that was donated to several local charities. And the winner of the GPX 5000 raffle went to Bill Hutchinson "Hutch". Congratulations Hutch! (image middle right is of Bill's first finds with his new GPX 5000).