RSS Feed
News
21 Mar 2014
Minelab Detectorist, Merlin, strikes gold and finds 18 carat nugget on seabed of British beach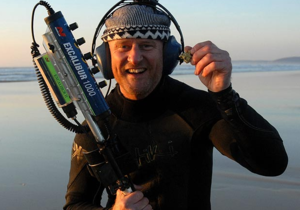 Armed with his Excalibur 1000 metal detector Merlin Cadogan, waded through the waves at Westward Ho! in Devon in search of gems from the deep. He said he 'couldn't believe his eyes' when to his delight his detector found a substantial lump of gold.
You can watch the ITV news feature of Merlin's find here www.itv.com/news/westcountry/2014-03-21/golden-nugget-found-on-westward-ho/
To read the full story of this fantastic find please click on one of the newspaper articles that his story featured in -
The Daily Mail - www.dailymail.co.uk/news/
The Sun - www.thesun.co.uk/sol/homepage/news/
North Devon Gazette - www.northdevongazette.co.uk/news/
North Devon Journal - www.northdevonjournal.co.uk/
Well done Merlin and keep up the detecting!