RSS Feed
News
14 Mar 2014
Staffordshire Hoard to be studied for the first time by experts at the Birmingham Museum and Gallery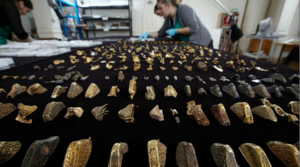 The Staffordshire hoard which is the largest Anglo-Saxon hoard ever to be found in the UK has been brought together for experts to study at Birmingham Museum and Gallery. Experts have discovered more than 600 new links, joins and associations between the parts and the discovery has shed new light on the Anglo-Saxon poem Beowulf as the description of a warrior's adornment in gold is now thought to be more realistic than experts previously believed. They believe the precious artefacts, which range from fragments of helmet to gold sword decorations engraved with animals and encrusted with jewels, are a 'true archaeological mirror' to the great Anglo-Saxon poem Beowulf.
The hoard was discovered in 2009 by Minelab Detectorist Terry Herbert and is considered one of the most important ever found.
Click here to read the full article.