RSS Feed
News
08 Jul 2010
Commander Coil Availability & Counterfeits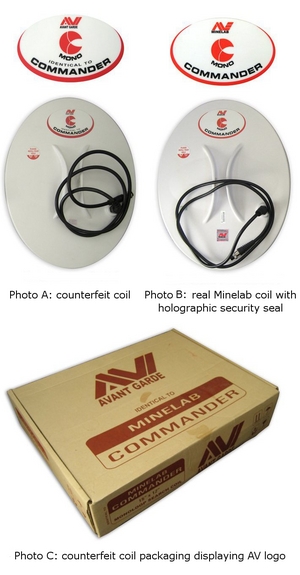 Here at Minelab we have recently been experiencing extraordinarily high levels of demand for our premium Minelab accessory coils. As a result there is currently a supply shortage on the very popular 15" x 12" Semi-Elliptical Commander Monoloop Coil. This coil will be unavailable for supply until late July, 2010 at the earliest.

The team at Minelab is working hard to overcome these issues and will be doing whatever it takes to resolve the current supply shortage to make these coils available as soon as possible.

As warned previously, Minelab has become increasingly aware of counterfeit Minelab products, including Commander coils, on the market. One example of such counterfeit coils is shown in photos A and C. At first glance this product and its packaging appears to be Minelab. However, if you look closely at the logo you will notice it is actually comprised of the letters A and V compared to the official trademarked Minelab logo which is comprised of the letters M and E.

All Minelab products are designed to the highest level specifications and undergo rigorous product testing before being released onto the market. This is how we ensure that all of our products maintain optimum performance. The same cannot be guaranteed for counterfeit products. Whilst they may have a similar appearance, the performance of imitation products is likely to be inferior.
In further efforts to assist you in avoiding counterfeit products, all Minelab Commander coils are now fitted with a holographic security seal (as pictured in photo B on the lower section of the coil).

Remember to only buy from an authorised Minelab dealer to ensure any coil you purchase is a genuine Minelab product. If you would like to place an order for the 15" x 12" Semi-Elliptical Commander Monoloop Coil your local authorised dealer will be pleased to assist you. And beware, any of these 15" x 12" commander Monoloop coils available before late July are likely to be counterfeit.

To find your nearest authorised Minelab dealer, click here.