RSS Feed
News
01 Jul 2010
X-TERRA 705 Gold Pack Released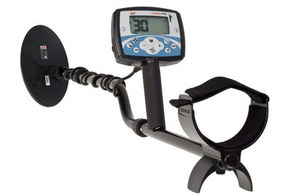 Minelab's X-TERRA 705 dual purpose metal detector is now available with a high frequency 18.75kHz elliptical coil in the X-TERRA 705 Gold Pack.
The X-TERRA 705 has two specific modes, coin mode and prospecting mode. In prospecting mode the X-TERRA 705 uses a modulated threshold tone to maximise sensitivity and depth when prospecting for gold.
The X-TERRA 705 Gold Pack's high frequency Double-D elliptical coil greatly enhances its gold prospecting performance. This is because goldfields tend to occur in mineralised ground and the blade like search pattern of a Double-D coil rejects more ground noise than a concentric coil. Also, the coil's high frequency is extremely sensitive and perfectly suited for finding small pieces of gold.
The X-TERRA 705 has a range of other key features that make it an outstanding gold prospecting metal detector including:
Digital Iron Mask discrimination to eliminate iron junk
True Automatic Ground Balance to eliminate false ground noise so you can hear elusive small gold signals
Effective Noise Cancel to reduce interference
Lightweight design with long lasting battery life
Easy to learn digital menu and simple to operate – User Manual & Gold Start Field Guide supplied
VFLEX technology that also gives you 3kHz & 7.5kHz options by changing accessory coils
It's also a great coin detector with highly accurate discrimination & numeric target identification

Technology Within
VFLEX technology uses sophisticated digital electronics and signal processing for precision detecting. This gives dependable performance and improved immunity to environmental conditions such as ground mineralisation, electromagnetic interference and temperature variations. VFLEX coils are accurately constructed and calibrated. Every time the detector starts up, the control box and the coil establish communication through a data link and combine to give you optimum performance!
To find your nearest dealer click here.
For more information X-TERRA 705 Gold Pack watch the following videos:
X-TERRA 705 Gold Pack Introduction
X-TERRA 705 Gold Pack Quick Start Guide