RSS Feed
News
08 Nov 2013
Treasure found in Craiova, Romania with Minelab Safari
Romania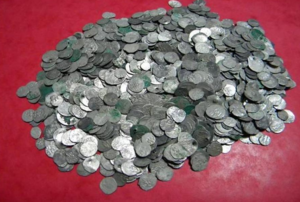 Dumitru Banta a Minelab detectorist from a town called Craiova in Romania recently found a hoard of 1500 silver coins (close to 2kg). The silver coins date back to the time of Romanian leader Michael the Brave (Mihai Viteazul).
The coins, which have a total weight of 1.8kg, are now with the Oltenia museum, where they are being evaluated by experts. The man who found the coins will receive 25% of their value as a reward. The coins were found at a depth of half a meter in a cloth bag and are an exceptionally important find.
The coins were found with the Minelab Safari which the man in question has a license to hunt for treasure with.
A CUMPARAT IN 31-08-2011 - DUMITRU BANTA – SAFARI MINELAB – LOCUIESTE IN CRAIOVA JUD DOLJ
Norocul a dat peste un bărbat din Craiova care a găsit o comoară de pe vremea lui Mihai Viteazu. Tezaurul numără aproape 1500 de monede de argint ce cântăresc aproape 2 kilograme, iar acum se află la Muzeului Olteniei.
Dumitru Banţa spune că a auzit de la bunicii săi că în localitatea lor natală Bulzeşti s-ar ascunde sub pământ adevărate comori. A fost curios să afle adevărul, aşa că în timp şi-a achiziţionat un detector de metale. Cu ajutorul acestuia a descoperit aproape o mie cinci sute de monede din argint.
Specialiştii spun că banii datează de pe vremea domnitorului Mihai Viteazu.
Văzând cât sunt de importante, bărbatul a predat tezaurul Muzeului Olteniei.
Monedele vor fi expertizate de specialişti. Craioveanul care le-a descoperit va primi din partea statului o treime din valoarea acestora.