RSS Feed
News
18 Oct 2013
Success in the goldfields of Zimbabwe
Zimbabwe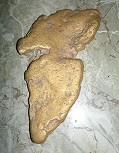 Minelab gold detectors are responsible for major gold finds across the globe, including just recently a 5.5kg nugget found in Australia at 60cms depth using Minelab's GPX 5000 valued in excess of US$300,000!
Many Zimbabweans are also using the GPX Series metal detectors with enormous success. Just in recent weeks, a prospector in Zimbabwe discovered a 1118 gram nugget using Minelab's GPX 5000 and a group of 6 prospectors discovered an 850g nugget with the GPX 5000 in the Matabeleland region and days later another lucky Minelab user pulled a 99 gram nugget from the ground in nearby Bulawayo.
It could be YOU! The GPX detectors are the BEST gold prospecting detectors on the market using precision technology to find gold in any ground conditions capable of finding gold significantly deeper than any other metal detector in all ground conditions. In addition, Minelab's Eureka Gold and the X-TERRA 705 Gold are delivering results in the gold fields across Zimbabwe every day.
Since its origins in 1985, Minelab has been the world leader in developing metal detecting technologies. With company origins and world headquarters in Australia, Minelab has some of the world's best goldfields in its backyard. The company's commitment to the development of new technologies, give customers a detecting advantage, no matter what the ground or environmental conditions. As goldfields typically occur in areas where there are high levels of ground mineralisation, Minelab has a range of gold prospecting metal detectors that have superior ground balancing technology to counteract ground mineralisation. It is no wonder Minelab are experiencing such strong demand throughout Zimbabwe.
For where to buy Minelab gold products click here.
About Minelab Zimbabwe
Zimbabwe, is one of Minelab's fastest growing markets in Southern Africa. Minelab Zimbabwe, expanded its dealer network outside of its Bulawayo base in 2011 to include Harare (Xtreme Marine P/L) and a more central operation at Kwekwe (4M Industrial & Engineering Supplies) and more recently have expanded further into Zvishavane and Masvingo with Bilcro Investments P/L. The countrywide expansion is directly attributed to the exceptional gold finds with Minelab product in Zimbabwe, driving demand for genuine Minelab product. The new outlets in Harare, Zvishavane, Masvingo and Kwekwe are a significant boost to the Minelab Zimbabwe operation providing a much needed distribution platform to cope with area demand.
Yvonne Povey from Bulawayo advises that "We are delighted with our customers' success and we in Bulawayo, Harare, Kwekwe, Zvishavane and Masvingo are passionate about the development of this market and are proud to reiterate that our customers can be assured of Genuine Minelab product supplied through our network."
Minelab also has an established repair, service and training facility for Minelab equipment in Zimbabwe. The repair and service centre demonstrates commitment to the region and its customers. Customers can also avail of training in the use of equipment for better results in the field. Click here for more information.