RSS Feed
News
20 Aug 2013
Minelab Donation Helps Families Of Deceased Yarnell Firefighters
Arizona Outback raffles Minelab detector in charitable fundraiser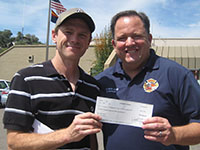 Arizona Outback, a leading supplier of metal detection technology in the US, today announced the winner of a Minelab Metal Detector, which was a key donation that helped raise more than $11,000 in funding to benefit the families of the 19 firefighters who perished battling the recent wildfires near the small town of Yarnell, AZ.
Christine and Richard Ward of Boulder City, NV, are the owners of a brand new X-TERRA 705 Gold Pack metal detector from Minelab, manufacturer of the world's best handheld metal detectors. The Lisle, IL-based regional office for Minelab donated the detector to Chris Gholson, of Arizona Outback Metal Detectors, who organized a raffle within the gold prospecting community to raise money for the families that lost loved ones in the late June 2013 Yarnell Fire.
All funds raised by Arizona Outback, located in Prescott Valley, Ariz., went directly to families of the Granite Mountain Hotshots. Gholson, whose Arizona Outback metal detecting store is located in Prescott Valley, Ariz., felt very strong about making the donation in person and having the chance to meet some of the family members.
"The gold prospecting community in this region has really come together to help out the families of those lost in this tragedy," said Gholson. "Minelab is a tremendous supporter of treasure hunting community and generously boosted our efforts to raise funds for this important cause by donating one of their top metal detectors for gold prospecting.
"It was an honor to meet some of the family members, who genuinely appreciate our well wishes and financial assistance."
When Minelab Sales Director Malissa Salzinger saw the gold prospecting community rally behind Arizona Outback's campaign, it was an easy decision to donate a metal detector to help the cause.
"Our Minelab team was deeply saddened by the news of the hotshot crew members who perished selflessly trying to help save lives and property," said Salzinger. "When Chris told me about his campaign to help the firefighters' families, the Minelab team didn't hesitate to lend our support. We are extremely impressed with Chris' passion to provide financial support at a time when the families most need it."
Gholson leveraged online metal detecting forums to drum up interest in the raffle. One gold prospecting forum member, Kevin Buckle of Alto Loma, Calif., was inspired by Gholson's kind gesture.
"It's because of people like you and other prospectors 'standing together' when times are good and not so good I feel that we all shine the best—and shine brighter than the one thing we all search for, GOLD," Buckley complimented. "A very big 'thank you' to you and Minelab. God bless those who put their lives on the line for us every day and especially the 19 Hotshots."