RSS Feed
News
02 Aug 2013
New PRO-SWING 45 ergonomic harness from Minelab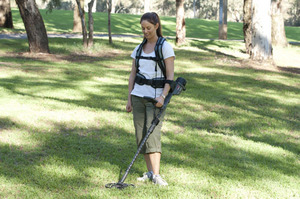 At last - a revolutionary new detecting harness that increases time and comfort in the field. Introducing the new PRO-SWING 45 from Minelab, this ergonomic harness features a unique weight distribution system (W8) that evenly redistributes the weight of the detector around the body. No more sore arms!
The harness features versatility for left or right handed users, guarantees a perfect fit through 8 adjustment points and allows you to carry your complete detecting kit with you through 8 attachment points. It also fits any Minelab detector thanks to the universal S-cuff so this is the only harness you will ever need to buy.
The PRO-SWING 45 is packed full of features and technology never seen before in a harness and will be available from your nearest Authorised Minelab Dealer from August 7th, 2013.
For a short video on the PRO-SWING 45 which includes instructions on how to assemble the harness, go to the PRO-SWING 45 video link.
To find your nearest Authorised Minelab Dealer or Distributor to order your PRO-SWING 45, visit our Where to Buy page.