RSS Feed
News
22 Jul 2013
Minelab partners with The Australian National University for Gold Mining research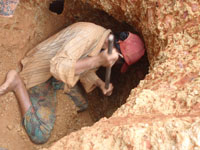 'Going for Gold: Safe livelihoods for informal gold miners in South and Southeast Asia'
Safer ways for informal gold miners in South and Southeast Asia to prospect for gold will be investigated under an Australian Government grant won by The Australian National University (ANU) and Minelab.
The research, to be led by Dr Kuntala Lahiri-Dutt, a senior fellow at the Australian National University) with Minelab as a commercial partner, will look at the risks taken by Artisanal Small Scale Gold miners.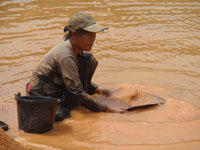 Traditional practices of employing dangerous methods for detecting and mining alluvial gold then using toxic chemicals to refine the metal frequently lead to injury and death amongst ASM communities, with very little gain. Through Dr Lahiri-Dutt's work, safer and more effective ways for gold mining can be found, preventing unnecessary risk to personal health and preserving the environment from the consequences of using mercury as a key refiner.
The funding was granted under the Australian Research Council Linkage program, which supports collaboration between public researchers and private industry.
Gary Shmith, Minelab's Region Director for Asia Pacific said We are very happy that the Australian Government has granted this funding and congratulate Dr Lahiri-Dutt on being able to pursue such a valuable project. Minelab is committed to improving the welfare and wellbeing of Artisanal Small Scale Gold Miners by providing training and technology to safely and efficiently find gold. We are also committed to supporting Dr Lahiri-Dutt with Minelab's resources and expertise to assist her research in South and Southeast Asia and look forward to sharing the positive outcomes of the project.
The project will commence in October 2013 and is expected to take 2 years to complete.