RSS Feed
News
04 Feb 2013
Ballarat nugget – the story of the GPX 5000 find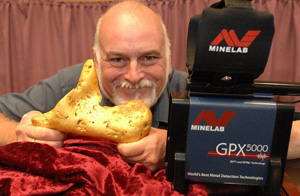 When one of Cordell Kent's regular gold prospecting clients walked through the door of The Mining Exchange Gold Shop on Wednesday 16th January, he could never have predicted that this was the moment he'd been waiting for for the last 20 years…

"We had a general greeting and then he looked at me with a smile and a glint in his eye.

He said, "Mate, I found a good one."

Now, I knew that the largest nugget that he had found before was about 8 grams, with lots of other smaller ones. So I asked, "How Big?"

He smiled and said, "Mate, on my scales it goes 5.4." I said, "Grams?"

He said with a smile, "No Mate." So I said, "Five point four ounces?"

He smiled and said with another smile, "No Mate."

I thought to myself, he can't mean kilos but I asked, "I don't suppose you mean kilos?" and he said "Yes Mate."

I was stunned and thought he got it wrong, but he showed me photos on his phone and it wasn't until I saw the one where he was holding it, I realised how big it was!"

Cordell goes on to describe how the prospector took his GPX 5000 out to a worked over patch in Ballarat with his wife's admonition of 'As long as you find enough gold to pay for it (the GPX 5000)' ringing his ears and proceeded to clear an area after hearing a 'good' sound from the ground. He details the soil type, the actual recovery process but also the hope and doubts crossing his mind until he retrieved the nugget and settled in to the thrill of the find.

Read Cordell's full Success Story here as well as view the gallery of images of the nugget.

The story and pictures are all courtesy of Cordell Kent, The Mining Exchange Gold Shop, Ballarat.
Click images below to enlarge.