RSS Feed
News
31 Jan 2013
Society for Historical Archaeology Annual Conference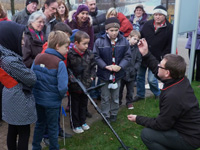 As part Minelab's efforts to reach out to archaeologists and promote the use of metal detecting as an efficient and environmentally friendly way of discovering historic finds, the EMEA team participated in the 2013 Society for Historical Archaeology Annual Conference (SHAAC) in Leicester, UK from 9-12 January.
Through sponsorship of the Public Event section, Finbarr Jordan, Ruth Fuller and Sheila Kelleher engaged more than 800 people over 4 days. Attendees included metal detecting hobbyists, first time detectorists and families with children of all ages who took part in fun and educational activities which aimed to promote the benefits of introducing metal detecting to archaeological projects.
Participation at the SHAAC event is one of the ways in which Minelab is globally addressing the reservation surrounding the usage of metal detecting technology in archaeological projects. Other initiatives include working closely with Dr Matt Reeves from Montpellier, Virginia, USA to introduce best practices into the Americas market, long-term affiliate member of the National Council for Metal Detecting (NCMD) in the UK and many other archaeological projects across the world.
The NCMD is a representative body formed in 1981 for responsible metal detectorists and who advocate best practice in the interests of hobbyists, heritage and land owners in the UK. Chairman of the National Council for Metal Detecting Steve Critchley and the General Secretary, Trevor Austin kindly volunteered their time with Minelab to reinforce their proactive and positive contribution towards preserving heritage.