RSS Feed
News
31 Oct 2012
Treasure Quest is a Success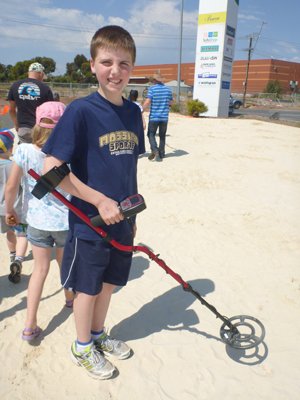 On October 20th 2012, Minelab celebrated the release of its X-TERRA range of detectors into the Adelaide Anaconda Store, with our very first Treasure Quest 2012 event! We gave away four X-TERRA 305's and many other prizes to participants who found keys in 90 tons of sand in the Mile End car park, with a majority of participants using detectors for the first time. In fact three of our detector winners had previously never used a detector before.
Local celebrity Cosi from Triple M and local travel show "South Aussie with Cosi" was our MC for the day, who with his great enthusiasm and comedic skills couldn't have been more perfect for the role. Treasure talk bloggers Mark Williams and Nenad Lonic were on site all day to teach everyone about the hobby, with Mark holding presentations about his experiences in the hobby which attracted great interest from the crowds.

Local clubs The Southern Seekers, Adelaide Detecting club and Adelaide Treasure Hunters also wowed everyone with their many interesting finds from around Adelaide whilst the Codan Variety Bash team kept everyone well fed with a BBQ and ran a raffle which together helped raise over $2500 for the children's charity.

Overall the greatest success of the day was the huge turnout of people who got to try metal detecting for the very first time and really enjoyed the experience, people such as Cameron who kindly sent us this letter.

"Dear Minelab

On Sunday I went to the 2012 Treasure hunt at Mile End. I liked looking for stuff in the 90 tons of sand in the car park. I also thought the sausage sizzle was good. Now I want to buy my own detector and find treasure! I really liked it, thank you for putting it together.

From Cameron Langfeild - SA"
To see pictures from the event visit www.treasurequest.com.au