RSS Feed
News
12 Oct 2012
Relic Cross unearthed in Denmark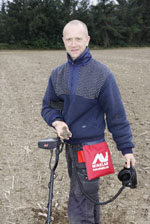 A splinter from the Cross of Jesus! This is what may very well be hidden within a fantastic detecting find! A 900 year old reliquary cross, made of solid silver.
For some time, Kim Lund-Hansen has been detecting in a specific area on the Danish Island of Bornholm. Having found this spot by studying both historical and modern maps, Kim began detecting the area with his Minelab X-TERRA 705 and found the occasional medieval artefact, prompting him to keep on searching.
Kim's patience paid off! The 18th of September 2012 proved to be a very special day for Kim. After hearing a weak signal, indicating a deep target Kim had to dig deeper than usual. It was well worth the effort! The result, when brought up to the light of day, was the most significant find Kim had ever made with his metal detector.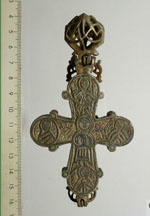 Photographer: Rene Laursen
The first artefact to be retrieved from the soil was a magnificent silver cross, weighing 240 grams. This alone had a stunning effect on Kim, and after the couple of minutes it took him to collect himself, he routinely checked the hole to see if there was anything else remaining in the ground. There was! Kim followed the normal practise for Danish detectorists and immediately got in touch with the local museum who arrived soon thereafter.
It turned out the cross was only a minor part of the treasure hoard, which when excavated weighed in at over a kilogramme. Besides the cross, the hoard consisted of a silver chain that belonged to the cross, ten small bars of silver, pieces from a chopped up silver bracelet, and at least five German and Danish late 12th Century coins. The cross in particular has significant archaeological value, not only for Bornholm, but Denmark and beyond.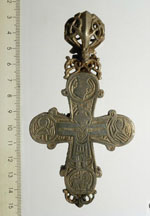 Photographer: Rene Laursen
It is believed that the cross itself was made somewhere in the Byzantine Empire, or maybe in Kiev in the Ukraine, probably in the late 11th Century or early 12th Century. The chain, however, is Nordic, decorated with zoomorphic patterns. The craftsmanship on both is of the highest standard, second to none. Only five crosses of this type are known to exist in the whole of Europe.
The cross is hollow, and can be opened like a locket. It is possible that it contains a splinter from the Cross of Christ, or maybe a small fragment of bone from a Christian Martyr or Saint. At a later date, conservators at Denmark's National Museum will try to open it, if it is possible to do so without causing irreparable damage.
Kim can expect a handsome reward for finding this remarkable artefact, which has been declared a treasure trove. However, Kim considers the financial reward as being secondary, compared to the satisfaction of finding such a remarkable piece of Denmark's medieval history with his Minelab metal detector.
Written by Jesper Hansen
Translation by Christopher Jarvis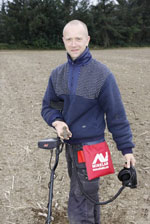 Story in Danish
En split af Jesus kors. Det er hvad der potentielt kan gennem sig i det helt fantastiske 900 år gamle relikviekors i sølv.
Kim Lund-Hansen havde igennem en periode søgt i et område nær på øen Bornholm, Danmark som han havde fundet interessant set med topografiske øjne. Kim havde med sin Minelab X-TERRA 705 fundet nogle middelalder genstande og fortsatte derfor med at komme tilbage til samme lokalitet.
Den 18 september 2012 skulle vise sig at blive ganske særlig for Kim Lund-Hansen. Han fik et dybt svagt signal. Et af den slags signaler der får spændingen til at stige, men kræver lidt ekstra kræfter at grave op. Dette signal skulle vise sig at komme fra Kims hidtil bedste detektorfund.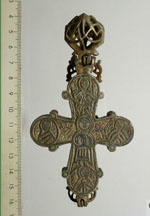 Photographer: Rene Laursen
Det første der dukker op af mulden er korset, og Kim Lund-Hansen korser sig – hvad sker der lige her?
Efter at have sundet sig over fundet tjekker Kim rutinemæssigt om der ligger mere i hullet, og det gør der. Som noget af det første, og efter almindelig god dansk detektorkultur, kontakter Kim Lund-Hansen det lokale museum. Museet sender hurtigt en mand ud på marken.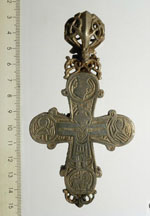 Photographer: Rene Laursen
Det viser sig at det 240 gram tunge relikviekorset, med tilhørende kæde, blot udgør en lille del af en kæmpe sølvskat på 1 kilo der udover korset indeholder flere meget sjældne sølvmønter fra danske og tyske konger omkring 1100 tallet. Fundet har meget høj arkæologisk værdi for Bornholm, Danmark og faktisk også udover de danske grænser.
Relikviekorset der har dyre ornamentik, stammer fra det tidligere middelalder. Der er tale om et stykke kunsthåndværk af absolut højeste klasse. I hele Europa findes kun 5 lignende relikviekors
Korset er hult og kan åbnes som en medaljon. Det kan vise sig at indeholde en splint fra Jesus kors eller knogler fra en kristen martyr. Korset vil på et tidspunkt blive åbnet af Nationalmuseets konservatorer.
Det venter Kim Lund-Hansen en betydelig danefæ godtgørelse for dette unikke fund, men det er blot en sidegevinst. Jagten på historien er det der driver Kim Lund-Hansen.