RSS Feed
News
09 Oct 2012
Treasure Found in Crusader Castle, Israel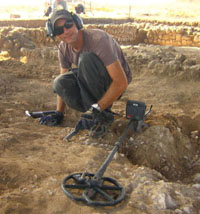 Mati Johananoff, a student of archaeology volunteered at a salvage excavation at a crusader site, north of Tel Aviv in July 2012. This site perched on a cliff is home to a crusader castle, rich in history in an area of great historical importance. For Mati Johananoff, it's a fascinating project to be part of, both for his studies at Tel Aviv University, and the opportunity to return to his childhood love of metal detecting.
With permission from the Project Directors Mr. Johananoff was given an opportunity to hunt a part of the site last excavated and detected over a decade earlier. This area was even covered with a layer of sea-sand in preparation for the visitors coming to the newly found National Park which the site has become.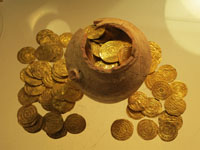 Methodically covering the area with his E-TRAC, Mr. Johananoff pulled out a few bronze coins and other metal objects. It was on the third day Mr. Johananoff received a very deep 12:35 reading on his E-TRAC. The signal seemed to be coming from an object too large for a single coin. After digging for 20-25 cm, still there was nothing. The E-TRAC however, was giving a very solid sound. Returning to the site later on that day and at 33+cm deep the familiar sound of a ceramic vessel cracking was heard. To Mr. Johananoff's astonishment a large number of gold coins, covered in damp brown soil appeared. A childhood dream come true!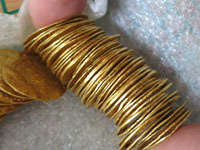 Having immediately understood the importance of the find Mr. Johananoff removed the ceramic juglet carefully from the hole. The vessel itself was small but unmistakably too heavy for its size, indicating it had a lot more coins inside. It appears the small jug, was intentionally broken at the rim and buried with sand inside, to protect from a chance find by anyone in antiquity. The juglet, later emptied in a laboratory, revealed a massive hoard of 108 gold coins, all dating to circa 1000ce and buried there by a Hospitaller Crusader Knight, prior to the site being destroyed by Mamluk attackers in 1265.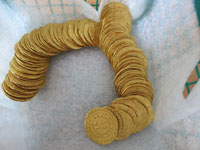 The coins are of great historical importance and the value estimation runs between 100k-500kUSD.
Mr. Johananoff is continuing his search of this spectacular site and others nearby, with the aid of Minelab's CTX 3030. Who knows what treasures this remarkable place still holds!
For more information, you can visit the following sites: