RSS Feed
News
05 Oct 2012
New 6" and 15" X-TERRA coils by Coiltek Manufacturing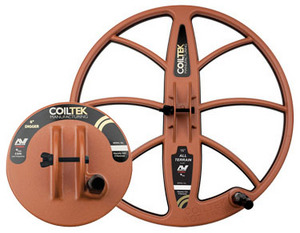 Minelab is delighted to announce that as a result of collaboration with Coiltek Manufacturing, Coiltek has developed four great new coils for the X-TERRA range of metal detectors. These new accessory coils supplement the accessory range currently available for the ever-popular X-TERRA Series.
The new coils are:
3 kHz 15-inch Double-D 'ALL TERAIN' coil - Suited to low mineralised areas and great for extra depth
7.5 kHz 15-inch Double-D 'ALL TERAIN' coil - The perfect all-rounder
18.75 kHz 15-inch Double-D 'ALL TERAIN' coil - Your best choice for sensitivity and great gold hunting
3 kHz 6-inch Double-D 'Digger' coil - Excellent for high trash and high conductive targets
All of these coils are compatible with Minelab's VFLEX technology and are designed to give improved performance by offering increased flexibility for X-TERRA users to customise their detector to suit their individual detecting needs, any one of these coils would be a great addition to your X-TERRA detecting kit.
The 15-inch ALL TERRAIN coils are also waterproof making them perfect for shallow water hunting.
Coiltek has been manufacturing metal detector accessories and coils for over 15 years and through their involvement with the detecting community encourages this wonderful hobby to continue to grow and prosper. An Australian company, they have built a network spanning the globe including USA, UK, Europe and Russia.
For more information on this exciting new coil please visit the Coiltek website or contact Coiltek directly.