RSS Feed
News
16 Jul 2012
ANNOUNCING THE ALL NEW PRO-FIND 25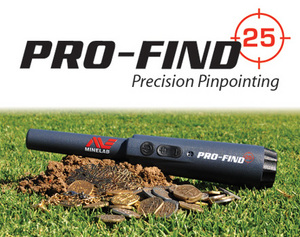 Minelab is excited to officially announce a new addition to our product range… the PRO-FIND 25 pinpointer probe.
Locate coins, rings, treasure and gold with speed and accuracy. With a great range of features the PRO-FIND 25 offers detectorists PRECISION PINPOINTING at its best. Our new Detector Interference Free (DIF) technology makes the PRO-FIND 25 the perfect partner for a Minelab detector, or any other detector.
Read more about the PRO-FIND 25 product details.
Download the product brochure.
Download the instruction manual.
Read the first Treasure Talk blog by Nenad Lonic
The PRO-FIND 25 will be available for sale from your local dealer from July 30th, 2012.
Make the PRO-FIND 25 an essential part of your detecting tool kit. Contact your dealer today for price and availability information, and a 'hands-on' demonstration.